A Machine that Packs More…
The G2 Mushroom Evolution is specially designed to not only gently pack sliced product, but also allows you to pack whole mushrooms with hand packed quality. This means a higher quality of product and a higher return on investment.
The G2 Mushroom Evolution series of machines are the next generation in weigh and fill technology. With two different models to choose from, there is a machine that meets your project's needs. No other machine can come close to the flexibility and versatility of the G2. With its ability to pack plastic, foam and corrugated tills along with boxes and bags. The G2 is a machine that every packing facility needs to keep up with today's fast paced and ever-changing market demands. Even more important than the G2's versatility, is its ability to be fast and efficient. With models of up to 140 tills per minute, the G2 has raised the bar as the fastest, most gentle and reliable weigh and fill on the market.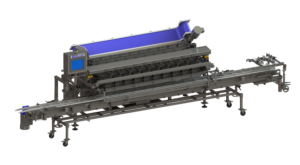 Over the past 7 years, we have used our vast knowledge and experience, from sales of over 550 "Evolutions" worldwide, to lead the way in weigh and fill technology. This expertise has allowed us to be systematically focused when designing this next generation machine to be more gentle and easier to use than any other system in the industry.
When you are in business, you are in it to increase revenue. There is nothing more important than your equipment running day in and day out with little to no down time. With the proven track record of an A&B Evolution, that's exactly what you get. Every piece of A&B Equipment comes backed with an industry leading service team that is second to none. This translates to more throughput and less labor along with pallet loads of savings. When compared to the competition the "G2," without a doubt, will extend and increase your product's quality, value and shelf life!
Features and Benefits
Evolution G2:
Sleek Design and Smaller Footprint
Suspended Touchscreen Controls Increases Operator Ergonomics
Exclusive Cross Feed System with Gentle Rollover System
Lift System Allows you to open up the system with no need to move infeed conveyors
Advanced Quick Clamp Flow Adjustments
Quick Removable Scale Hoppers
Easy to Clean Funnel System
Packs 8oz to 40oz Containers
Capable of Packing plastic, foam and corrugated tills along with boxes and bags
Able to Pack Up to 140 Tills a Minute
Improves Quality
Extends Shelf Life
Remote Assistance Available
Log File & Date Tracking Available
Left & Right Handed Machines Available
Programmable Profiles
Solid State Electronics
Stainless Steel Construction
Low Maintenance
Now available in 4 & 10 Scale Versions
G2 Index:
New Advanced Speed and Positioning Controls
Multiple De-Nester Head Setups Available for Quicker Changeovers
Easy Adjustments for Cup Guide Rails
Easy Adjustments for Height Changes
Multiple, Automatic Closer Setups for Quicker Changeovers
Easy to Clean
Low Maintenance