Why Did We Enter the Market?
As with most creations from A&B, the Fulcrum fresh harvester was designed out of necessity due to rising labor costs, and the pure lack of laborers period. A&B has heard the cry of our industry, customers, and our growers. We have dedicated years of research and development to decipher a solution to yet another problem. This is a historical turning point in time – a fulcrum moment – that will change the industry. Seize that moment and don't miss out on the chance to advance your future with the Fulcrum fresh harvester from A&B!
Horizontal Picking Position The Fulcrum Fresh Harvester is engineered from the ground up to be the most gentle harvester available today. Maximize your yield and minimize your time doing it. The A&B Fresh Harvester's gentleness increases shelf life and maximizes cash flow from your fields. The tunnel throat opening is a spacious 63" wide – that's right, over 5 feet – which helps minimize fruit loss before entering the tunnel. As the Fulcrum starts a row, it begins to gently part the bush in two. These parts are then delicately maneuvered through the rail system and into the to be continuously engaged for an extended period of time. This enable the horizontal rotary heads to carefully remove ripe fruit in a more consistent manner than any other harvester on the market. The guide rails also lower the bush closer to the sloped "No-Bruise" padded harvesting beds. In the picking zone, the berries have a minimal drop of only inches. As the bush exits the rotary heads, the guides gently return the bush to its original upright position.
Vertical
 Picking Position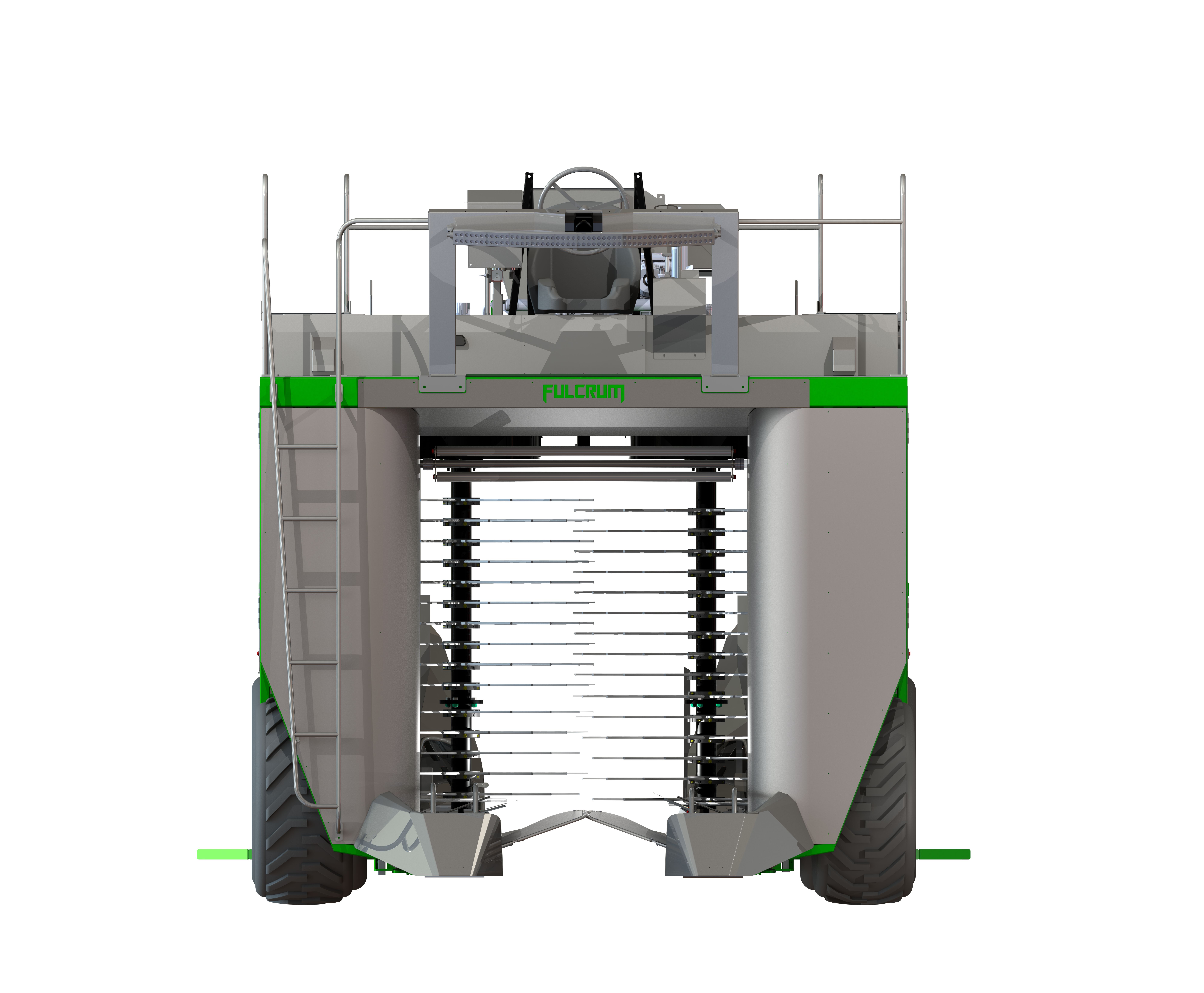 The Fulcrum is the most versatile Fresh Fruit Harvester available. It can transition from a horizontal picking position to a traditional vertical picking position. The 63" wide tunnel entry allows for longer picking fingers, which also enables the rotary heads to be further apart and pick larger bushes more effectively. Ordinary harvesters use hard plastic or metal to catch the berries, which can bruise the fruit. The Fulcrum, on the other hand, uses a sloped "No-Bruise" padded harvesting bed along with "No-Bruise" padded catcher plates. These features dramatically improve the look and increase the shelf life of your fruit.